'F**k Pokemon, f**k Twitter, f**k Facebook' says Sir Bob Geldof
RSA Asia Activist Sir Bob Geldof hates Pokemon Go, Facebook, and Twitter, has never bought anything online, and uses a Nokia 3100 which he says avoids the need for mobile security.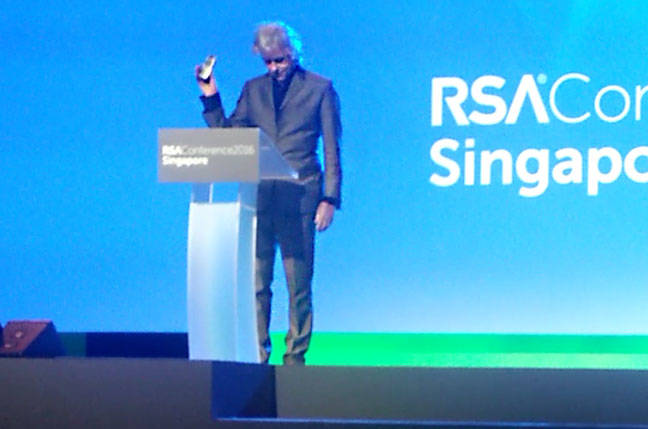 Sir Geldof and his Nokia relic.
The muso and Irish punk-now-pop icon took aim at the meaningless obsessions of the modern world during a closing keynote at the RSA security conference in Singapore.
He says the hunt for the digital animals is a distraction from humanity's mission to remove 'morons' like Republican presidential candidate Donald Trump, far-right anti-immigration parties, and bringing prosperity to the poor.
The man took aim at the "trivialities" of apps and social media, dubbing Pokemon Go an "obsession", Twitter largely "just nonsense", and Facebook "mostly meaningless".
"I have absolutely no need for any cyber security at all because of this" Sir Geldof told delegates, holding up his silver Nokia relic.
"… people are saturated with nonsense like Pokemon Go, for fuck's sake."
Sir Geldof says he is "cruelly disappointed and saddened" by Brexit, and fears the rise of nationalist and far-right leaders.
The global elite class will, Geldof reckons, soon evolve a new economy as classic capitalism is no longer fit for purpose under the looming rise of automation.
He praised the ability of technology to bring prosperity, but pointed out the huge divide in education and meaningful access between the western and developing worlds, urging delegates to think about how IT could help alleviate poverty.
Sir Geldof had flown into Singapore after a gig with The Bloomtown Rats at Brentwood Festival in the UK where he slammed the crowd for wearing wall-to-wall Primark instead of rock-n-roll getups.